Social Contribution
Creating Jobs & Enhancing the Economic Capacities of the Community
Through its external growth, KAONMEDIA is
striving to create jobs for the community.
By sharing the expertise it has accumulated through the process of starting
as a venture company and developing into a corporation with revenue of over
200 billion won with local small & medium-sized companies, it is striving to strengthen
their economic capacities as well.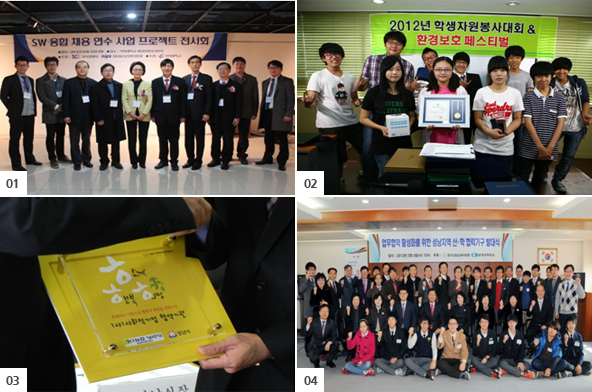 01. Fostering Global SW Experts with Gachon University
In 2012, a two-year consortium was made with Gachon University in Seongnam to foster and employ global SW experts who can be immediately positioned to work through the 'SW Convergence Employment Training Program,' a national HR fostering project.
02. Support for Local Student Volunteer Competitions
KAONMEDIA provides support for the environmental protection festival for middle and high school students in Seongnam, and is a strong supporter of our youth. .
03. 1 Company 1 Social Corporation Sisterhood
KAONMEDIA is making a 1 company , 1 social corporation sisterhood agreement with the City of Seongnam so that social corporations can become stable and independent. Through this, Kaon shares its management expertise and provides a range of support, including management consulting.
04. 1 Company 1 School Industry-Academic Cooperation
KAONMEDIA signed an industry-academic cooperation agreement with the Seongnam Chamber of Commerce to spread the culture of education donation and to teach the right values for companies and money through economic education for students.
Community Volunteer Activities
Parts of the corporate profits are continuously being returned to the community.
Monthly cleaning for the surrounding area, company-wide year-end volunteer activities (once a year), talent donation of volunteer clubs to facilities for the disabled (at least once a month), and PCs and necessary goods are regularly being donated to nearby welfare facilities.
Also, '1 Company 1 Town' sisterhood agreements with towns where people with severe disabilities live were made for up-close volunteer activities.
Yatap Station and Tancheon Cleaning Activities
On the last Wednesday of every month, KAONMEDIA employees clean up the Yatap Station and Tancheon areas during their lunch break.
Company-wide Year-end Volunteer Activities

On the year-end event day, all employees of KAONMEDIA visit rehabilitation centers and senior's home facilities to carry out volunteer activities and donate their talents.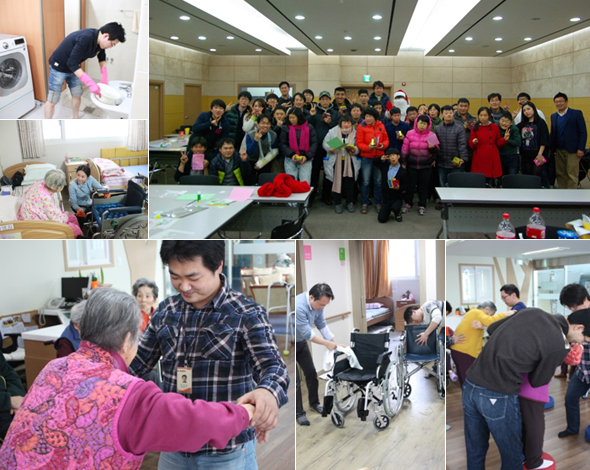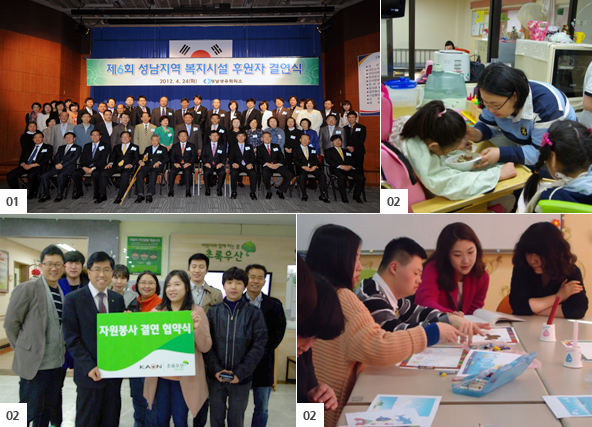 01. Supporting the Seongnam Immigrant Center
In addition, employees voluntarily donate part of their monthly salary to help those in need.
As part of this donation program, a sisterhood relation was formed with the Immigrant Center to give a warm helping hand every month to immigrants who have nowhere else to turn.
02. Company Volunteer Club Activities
KAONMEDIA has a volunteer club (Kaon Sanarae) and visits towns and facilities for the disabled once or twice a month to donate their talents to needy neighbors.
Overseas Volunteer Activities
KAONMEDIA earns 90% of its revenue from overseas,
So it tries to share the corporate revenue with those in need overseas as well. The company is building schools to give better education opportunities to children, and provides support for drinking water programs so that they can drink clean water.
KAONMEDIA's CSR overseas