Environmental Management
KAON's Green Management
KAONMEDIA champions green management for a future that is cleaner than today.
KAONMEDIA will always do its best to think about and improve the effects of our business activities on the environment.
By building a company-wide environmental management system, we are continuously working pro-actively to address environmental regulations, restriction of materials, and management of manufacturing lines for low carbon production.
Also, through cooperation with our suppliers, we are searching for win-win relationships. Through regular promotions and notices, as well as continuous education, we are sharing our vision of the future environment.
With the goal of realizing technologies that place the utmost priority on people and on nature, KAONMEDIA pursues its values as a leader in global environmental conservation and sustainable environmental management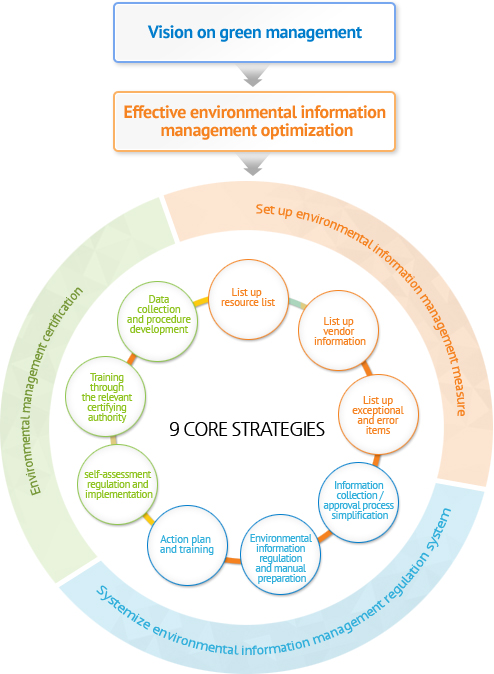 Green Management Strategy
KAONMEDIA sets systematic strategic directions and goals for management to realize green management. Based on the vision of green management, we set practical goals by maximizing the efficiency of our environmental information management, and practice developmental green management by deriving nine core strategies focused on the three major strategic directions.
1. Establishing environmental information management plans – Arranging materials list, Arranging company information, Arranging exclusion and error items

1.1

Arrangement of environmental information exclusion regulations/items

1.2

Arrangement of evidential documents according to exclusion item

1.3

Material management and supply network audit

1.4

Partner supplier checklist

1.5

Managed material list

1.6

Draft hazardous substance risk table

1.7

Draft environmental regulation exemption list

1.8

Categorize vendors by rating and scale to draft management items

1.9

Conduct exclusion item list inspection

1.10

Draft environmental regulation application category list

1.11

Evaluate general partner reliability and rank accordingly

1.12

Prove vendor environmental information provision consent form
2. Systemization of environmental information management regulations – Simplify information collection/approval procedures, Draft environmental information regulations and manuals, Response plans and education

2.1

Establish logical response process

2.2

Systematic management of evidential materials

2.3

Joint response through regular meetings with partner companies

2.4

Evaluation and management of partner suppliers

2.5

Improve KGP site functions for efficient information collection/approvals

2.6

Division of work and thorough documentation for each department

2.7

Regular internal/external education and worker training

2.8

Construct IT-based system

2.9

Hazardous material management process

2.10

Draft in-house environmental management guide

2.11

Simplification and distribution of KGP site manuals

2.12

Draft technical documents and utilize blueprints
3. Acquire environmental management certification – Self evaluation regulations and conduct evaluations, Complete work procedure, Document forms, Management policies and authorities and responsibilities

3.1

Clarify management policies, authorities and responsibilities

3.2

Construct IT-based system for evidential materials management

3.3

Applicable range and objective, work procedures

3.4

Detailed work procedure, inspection standards and work standards

3.5

Drafting of related documents

3.6

Diagnosis of green management activities by expert

3.7

Continue in-house expert fostering education

3.8

Inspection and construction of information relay network among partner companies

3.9

Understanding and execution of small & medium business green management rating confirmation form

3.10

Composition and execution of green management pursuance organization

3.11

Establish regulations for certification process and conduct self evaluations
Response to environmental regulations
Observe legislations and instructions related to environmental regulations
Compliance item
Regulation / Legislation
Enforcement Date
Guarantee
RoHS Directive
EU Directive 2002/95/EC
EU Directive 2001/95/EC,
EU Directive 2011/65/EU etc.
April 2004
Certificate of Compliance / Marking
REACH
Regulation Restriction
of chemical substances
(EC) No. 1907/2006
March 2006
Certificate of Compliance
WEEE Directive
Directive 2002/96/EC
June 2006
Certificate of Compliance / Marking
Eco Design Directive
Directive 2009/125/EC
July 2006
(Simple STB)
January 2007
(Complex STB)
March 2007
Certificate of Compliance
Battery Collection
EU Directive 2006/66/EC
EU Directive 2008/103/EC
May 2003
Certificate of Compliance
Packing Collection
Green Dot Mark,
Carton box,
Plastic bag collection
EU Directive 94/62/EC
May 2003
Certificate of Compliance / Marking
Energy Efficiency Design,
Marking
EU Regulation
January 2007
Certificate of Compliance / Unit. Marking
Substance Information
Offer Change
/
Data / Unit.
Environmental Management
RoHS :

Regulation on hazardous substance usage restriction guides for electric and electronic products (2002/95/EC)

WEEE :

Regulations on disposal of electric and electronic parts (2002/96/)

EuP :

Regulations on setting environment-friendly design requirements for products that use energy (2005/32/EC)

REACH :

Laws on the registration, evaluation, certification and regulation of chemical materials

PPW :

Guideline on packaging and package wastes (94/62/EC)
※ mg/kg(mg/ml) : parts per million - 0.0001%